Description:
1. This Eyebolt Fishing Magnetic is made up of a super strong neodymium magnet inside of a chrome plated steel cup that concentrates the magnetic force to give this strong holding power.
2. The heavy duty construction of this magnet features a female threaded steel cup and a threaded eyebolt that attaches directly to the cup instead of through the magnet, so it can Ensure the use of Security.
3. Great for Spending Time with Family Exploring What Can be Found in Rivers, Lakes or Anywhere Else.
Feaature:
1. Strong magnetic with steel and neodymium magnet.
2. Can absorb on any places where have metal to hang items.
3. Thread locker is strongly recommended for magnet fishing to keep the eyebolt from backing out.
4. Ni+Cu+Ni Triple Layer Coated. Provides a shiny and rust resistant coated steel cup provides protection for the magnet and helps to prevent chipping or cracking.
5. Great for salvaged of various iron-containning nickel material underwater and Good idea for magnet fishing, lifting, hanging, retrieving applications.
6. Have fun to searching items like eyebolt, screws, hooks, fasteners and so on in your warehouse garage or yard.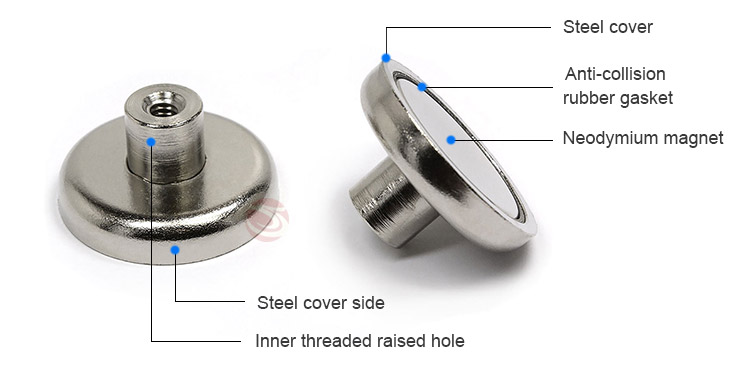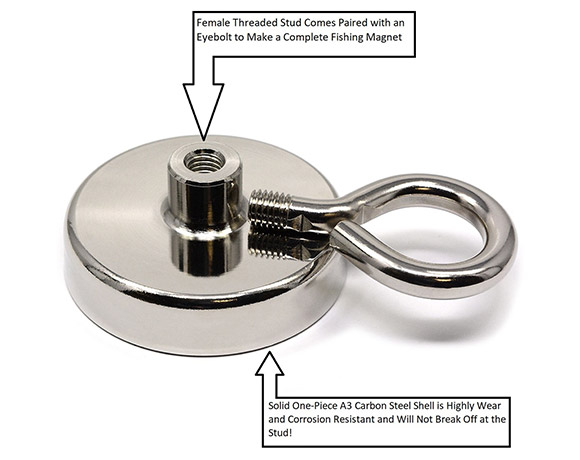 This Super Eyebolt Fishing Magnetic is great for:
-River or lake fishing (enjoy a fun time with family or friends!)
-Magnet fishing
-Underwater treasure hunting / retrieving lost or discarded items and historical artifacts
-Scrap salvaging
-Lifting
-Holding / hanging tools and/or other items
-Retrieving applications
-Or anywhere you need an incredibly strong magnet.